Our Story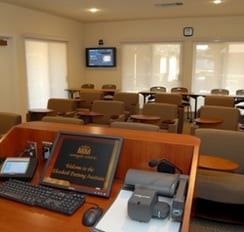 mmLearn.org was created as a web-based program of the Elizabeth McGown Training Institute to provide quality, consistent caregiver training for Morningside Ministries employees and staff as well as the residents and family members. Since its inception in 2007, mmLearn.org has produced over 300 web-based caregiver training videos and has grown from a local service for Morningside employees, to providing much needed training to caregivers around the world.
mmLearn.org offers real-life, quality caregiver training to anyone seeking practical ways to meet the physical, emotional and spiritual needs of older adults in their care. Whether you're a healthcare professional, a family caregiver, or seeking guidance as a pastoral or spiritual caregiver — we know that you'll find mmLearn.org an essential learning tool in caring for older adults.
Morningside Ministries is San Antonio's oldest and largest not-for-profit, faith-based senior care organization, dedicated to the specific mission of "caring for those who cared for us." Morningside Ministries has served the San Antonio and surrounding community since 1961.
Today, Morningside Ministries provides care for 800+ residents in retirement, assisted living, memory care, skilled nursing care, and rehabilitation.
Morningside Ministries communities in San Antonio include: The Manor, The Meadows, and Menger Springs in nearby Boerne, TX.